Pampering Program for Her
Additional services
Pampering Program for Her
1 x full-body scrub
1 x full-body pack 
1 x full-body massage with aromatic oil
1 x facial treatment "ANTI AGE CELL"
Delivery method
Presentee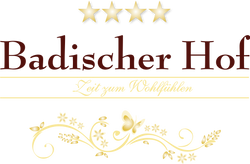 Hotel Badischer Hof
Hotel Badischer Hof, Karl-Heinz Bühler e.K.
Dörfle 20
77781 Biberach-Prinzbach
Germany
Do you have any questions?
+49 (0) 7835-636-0
+49 (0) 7835--636-299
Your data is safe!
Encrypted transactions
In an encrypted transaction, the data is transmitted securely from your computer to us and protected from third-party access.
Voucher 1
Pampering Program for Her
€ 190.--
Total price:
€ 190.--
VAT included