Pampering Program for Her
Additional services
Pampering Program for Her
1 x full-body scrub
1 x full-body pack 
1 x full-body massage with aromatic oil
1 x facial treatment "ANTI AGE CELL"
Delivery method
Presentee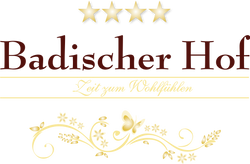 Hotel Badischer Hof
Hotel Badischer Hof, Karl-Heinz Bühler e.K.
Dörfle 20
77781 Biberach-Prinzbach
Germany
Do you have any questions?
+49 (0) 7835-636-0
+49 (0) 7835--636-299
Your data is safe!
PCI DSS
In compliance with the standards according to the Payment Card Industry Security Standard for companies that save, process or transmit credit card data.
Encrypted transactions
In an encrypted transaction, the data is transmitted securely from your computer to us and protected from third-party access.
Voucher 1
Pampering Program for Her
€ 190.--
Total price:
€ 190.--
VAT included